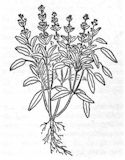 Sage (Salvia officinalis).—Although Sage can be raised from seed with a minimum of trouble, yet this is one of the few instances where it is an advantage to propagate plants from a good stock. The difference will be obvious to any gardener who will grow seedlings by the side of propagated plants. Still, seedlings are often raised, and as annuals the plants are quite satisfactory. Sow under glass in February and March, and in open ground during April and May. Prick off the seedlings into a nursery bed before transferring to final positions, in which each plant should be allowed a space of fifteen inches.
Description
Common Sage, or Garden sage, grows in the wild in the Mediterranean region. There are over 750 species grown all over the world. Like many herbs, it is also considered a flower. It grows as a shrub.
Culture
Sage are grown from seed. They can be directly seeded into your garden, or started indoors for transplanting later. Start them indoors six weeks before the last frost. If planting outdoors, sow them after the soil has begun to warm in the spring. Sow seeds early in the season and cover lightly with soil. Space seedlings or thin plants to 12" apart. Rough oval shaped blue/green leaves. Sage has spikes of purple flowers.
Harvesting
Pick the leaves before or at blooming. Cut back the stems after blooming.
Use
The leaves and stems are used in cooking for flavoring sausages, pork, sauces, cheese, dressings and stuffing. Gramma may use sage in Thanksgiving turkey stuffing.
The sage herb has a wonderful aroma, the "fruit sage", "pineapple sage" and sage elegans among others give the most beautiful smell, and is sometimes used with sachets, to complement the scented combinations. It can also be used for tea, combined with black tea or by itself, the flowers are collected for this purpose.